Donate to a Participant
Please search for your particpant's name in the box below to make a donation.

All money raised from Krossin' Keuka is for the Keuka Comfort Care Home.
KCCH provides a facility and staff to ensure compassionate care in a peaceful, home-like environment for our community's terminally ill residents and their families, at no cost to these patients or families. KCCH is an extremely valuable asset to our community and the quality of care at KCCH has been experienced by many.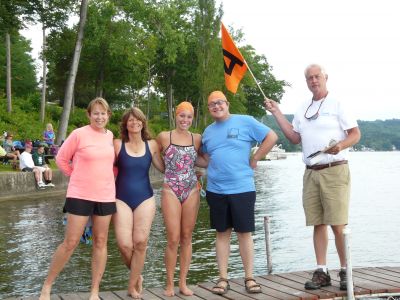 If you prefer to mail your donation to KCCH
please make sure you indicate your swimmer's name in the memo line
of your check. Make checks payable to Keuka Comfort Care Home.
Keuka Comfort Care Home
Krossin' Keuka Swim
PO Box 107
Penn Yan, NY 14527
Cam and Dad about to cross the lake - Summer 1993
25 years ago, my dad swam across Keuka lake as I paddled alongside him in a tiny inflatable rowboat. On that day, I thought he and I were the strongest men in the entire world. He was just as big in my eyes until the day he died in September. I want to remember my dad this summer by doing the same swim by myself. Any donations would be very appredciated.