Swimmer Information



K

rossin' Keuka is a .67 mile fun swim across Keuka Lake, off the shore of Keuka College. This is a fundraising event to support the Keuka Comfort Care Home.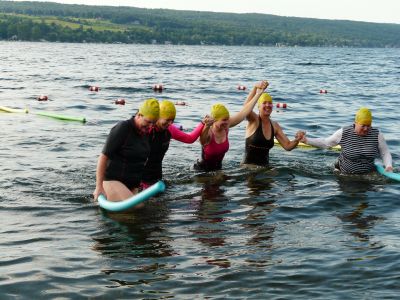 Important Information
This is a fun swim - not a race.
Krossin' Keuka is a fundraising event for Keuka Comfort Care Home. Swimmers must raise a minimum of $150 in sponsorships before event. To be eligible for prizes all fundraising must be submitted by July 1st. Donations collected after July 1st can be turned in at registration on Friday afternoon.
Krossin' Keuka rewards fundraising prizes and incentives available for swimmers and paddlers. In order to be eligible for fundraising prizes, your sponsorship money must be in by July 1st.
Participant Requirements
Swimmers must pay $25 Registration Fee, $150 minimum fundraising.
Must be middle school age or older.
Participants under 18 years old must have parent/guardian complete registration.
In addition to the requirements for all swimmers, participants in grades 6 - 8 must swim with a designated adult, who must also be a registered participant.
High school aged (grades 9-12) participants are not required to swim with a designated adult, but it is recommended.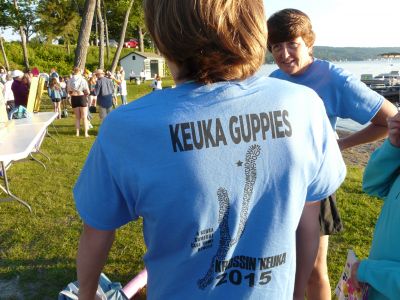 We invite participants to form their own pods!
How it works:
Participants and Pods must be registered by July 1st.
Get 10-12 of your friends/family members to register to swim in Krossin' Keuka.

Come up with a Pod Name.

Select a participant to be the Pod Leader - this is the person in the group who will register your Pod on the website and who we can contact if we need to. Pods names need need to be registered before team members can join.
Pod Leader will email Krossin' Keuka to let them know the names of participants who are in, or will be joining the pod.

Pod members should select their Pod name from the Team lists on the registration form when registering.

BONUS: Bring along a Pod Helper to assist in keeping your group corralled and organized. This should not be a registered participant. Your Pod Helper will also receive a custom Krossin' Keuka t-shirt!
Let us know via email, or in your registration form of your Pod plans! You don't have to wait until everyone is registered - let us know as soon as you can so we can plan accordingly.
To get a custom Krossin' Keuka t-shirt, you must have a minimum of 10 registered participants in your pod.
Pods are open to swimmers, not paddlers.