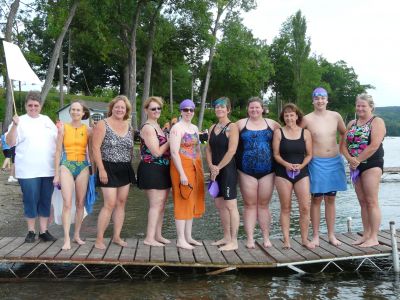 Watch our event video click here!

Krossin' Keuka has 200 swimmers, middle school age or older, who swim .67 miles across Keuka Lake. Swimmers sign in, are given swim caps, instructions, and are grouped into pods (a group of about 10). The event kick off takes place early Saturday morning on the shoreline of Keuka College's Point Neamo. Swimmers are ferried across the lake to Willow Point on pontoon boats, and begin their swim together as a pod. Paddlers (Kayakers, Canoeists) escort each pod across the lake, and are required to attend a safety briefing before the event begins. Paddlers are in place to keep swimmers on track, give encouragement, and are equipped to assist with fatigued swimmers.
In addition to paddlers, the Yates County Sheriff's Department provides Marine Patrol Boats who position themselves across the width of the lake. Lifeguards are present in motorized boats as well.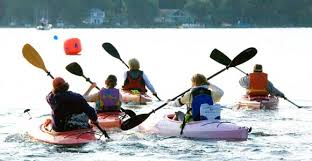 Krossin' Keuka is a fund raising event. Swimmers are required to pay a $25 registration fee, and raise at least $150 before the event. We encourage swimmers to raise as much money as possible, and they are eligible to win fundraising awards. Paddlers are required to pay the registration fee, and are encouraged to participate in sponsorship donations, but are not required to raise money.
All money raised from this event is for the Keuka Comfort Care Home. KCCH provides a facility and staff to ensure compassionate care in a peaceful, home-like environment for our community's terminally ill residents and their families, at no cost to these patients or families. KCCH is an extremely valuable asset to our community and the quality of care at KCCH has been experienced by many.
Swimmers are welcome to form their own teams or "pods". Family members, co-workers, organization members, or friends. We encourage healthy money-raising competition among swimmers and pods, but Krossin' Keuka is not a race. The goal is to raise as much money as possible and have fun.












Form A Pod
Participants may form their own teams or "pods"! Registered pods will receive a custom Krossin' Keuka t-shirt with their Pod Name on it (if registered by July 1st).
How it works:
Participants and Pods (a.k.a. Teams) must be registered by July 1st.
Get 10-12 of your friends/family members to register to swim in Krossin' Keuka.

*Come up with a nifty Pod Name for your Team T-Shirts!

Select a participant to be the Pod Captain - this is the person in the group who registers your pod name on our website and who we can contact if we need to. Pod names need need to be registered before team members can join.

Pod members should select their Pod Name from the Team lists on the registration form when registering.

BONUS: Bring along a Pod Helper to assist in keeping your group together and organized. The helper should not be a registered participant.
If you need us to change registrations or add people to your pod just send us an email through the Contact Us form.
*To get a custom Krossin' Keuka t-shirt, you must have a minimum of 8 registered participants in your pod, and a maximum of 12 participants by July 1st. You can always add people to your pod later, but they may not receive a custom shirt.