Donate to a Participant
Please search for your particpant's name in the box below to make a donation.

All money raised from Krossin' Keuka is for the Keuka Comfort Care Home.
KCCH provides a facility and staff to ensure compassionate care in a peaceful, home-like environment for our community's terminally ill residents and their families, at no cost to these patients or families. KCCH is an extremely valuable asset to our community and the quality of care at KCCH has been experienced by many.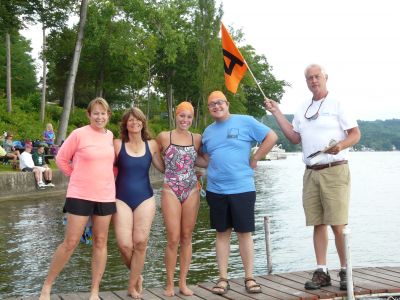 If you prefer to mail your donation to KCCH
please make sure you indicate your swimmer's name in the memo line
of your check. Make checks payable to Keuka Comfort Care Home.
Keuka Comfort Care Home
Krossin' Keuka Swim
PO Box 107
Penn Yan, NY 14527
I'm really looking forward to participating in this great fundraising event for KCCH! This will be the first time I've participated.
The wonderful work of
KCCH
strikes a special chord with me. Like many other men, I have advanced prostate cancer. I've been very fortunate to have support from my family, work and Healthworks families as well as from our Corning Rotary club. That's allowed me to work hard to beat my cancer into a remission; in my case, the cancer appears to be susceptible to the
effects of exercise
[which can kill cancer cells], plus my meds [which slow the cancer cells] -- so I exercise lots!!
My favorite exercise is SWIMMING -- I swim 3.5 miles every morning. It will be fun to swim in one direction instead of all the laps ... If you're into swimming, I'm using
TI swimming
.
So my message is simple.
Please help KCCH by sponsoring my swim on July 28th
. If you swim or want to help by being a paddler, then please sign up as a volunteer to make this event the best yet.
Part II of my message is also simple.
Make sure that the men in your life get an annual physical
. Advanced prostate cancer [hard to treat] can often be effectively prevented through early detection -- when it's simple prostate cancer [very treatable!].
All the Best!
Andy
I swim to live ...
... and I live to help