Donate to a Participant
Please search for your particpant's name in the box below to make a donation.

All money raised from Krossin' Keuka is for the Keuka Comfort Care Home.
KCCH provides a facility and staff to ensure compassionate care in a peaceful, home-like environment for our community's terminally ill residents and their families, at no cost to these patients or families. KCCH is an extremely valuable asset to our community and the quality of care at KCCH has been experienced by many.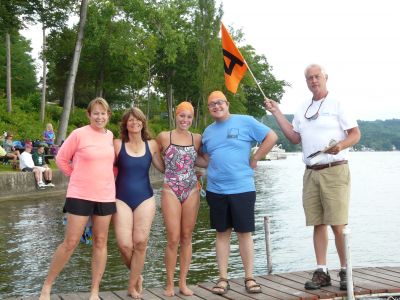 If you prefer to mail your donation to KCCH
please make sure you indicate your swimmer's name in the memo line
of your check. Make checks payable to Keuka Comfort Care Home.
Keuka Comfort Care Home
Krossin' Keuka Swim
PO Box 107
Penn Yan, NY 14527
This will be my 7th year participating in the Krossin Keuka event. As a graduate of Keuka College, I enjoy returning to Penn Yan for the weekend at any time, but especially to support such a great cause and resource for the community.

My father, Alan Beardsley helped with the building of the Keuka Comfort Care Home and my mother, Darrell volunteered as an aid until relocating to Rochester/FL several years ago. She comes with me for the event and we both enjoy seeing longtime friends during that time.

Dad participated in the very first swim decked out in flippers, goggles and floaties but passed away in 2010. I swim in his memory and to honor my Mom and what the KCCH means to those in need of such services.

Any amount of support is appreciated to help continue the level of services provided by KCCH. Thank you.